Make your dream home a reality with James Hardie Siding
Bring Your Home to Life with James Hardie Fiber Cement Exterior Solutions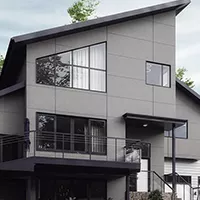 DESIGN
Elevates the aesthetic of traditional wood siding with lower maintenance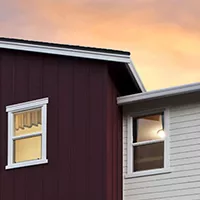 DURABILITY
Outlasts wood and wood-based siding
Termite Resistant
Fire Resistant
Water-Resistant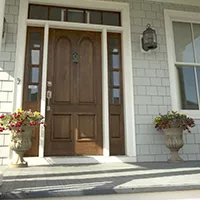 PEACE OF MIND
30-year non-prorated substrate warranty
Fire Resistant Siding Withstands the Test
James Hardie® fire resistant siding helps you protect what you cherish.
Home is where life happens.
It's a safe haven for you and your family.
James Hardie fiber cement siding products can give you peace of mind knowing that what's inside your home is protected by what's on the outside, no matter what life brings. Our products are:
Non-combustible
Resistant to flame spread
Supported by Fire Departments Nationwide*
Resistant to damage from pests, woodpeckers, termites, and water
Backed by our non-prorated limited warranty covering 100% of the siding for a full 30 years
*James Hardie siding complies with ASTM E136 as a noncombustible cladding and is recognized by fire departments across the U.S. including Marietta, GA, Flagstaff, AZ and Orange County, CA. Fiber cement fire resistance does not extend to applied paints or coatings, which may be damaged or char when exposed to flames.

Unrivaled value of North America's #1 brand of siding.
Hardie® fiber cement products unlock endless design possibilities while providing long-lasting beauty for your home.
Cost Savings
Hardie® siding costs less than wood, requires less maintenance, doesn't attract pests, and is water-resistant.
Great Warranties
Hardie® siding products come with a 30-year, non-prorated limited substrate warranty, and trim products come with a 15-year, non-prorated limited substrate warranty.
Climate Specificity
Only Hardie® fiber cement products are Engineered for Climate®, ensuring that you get the best performance for your region.
Lower Insurance
Unlike vinyl, Hardie® siding is both fire and hail damage resistant, and can also help reduce home insurance premiums. Ask your agent.
Color that Lasts
Spend less time maintaining your home. With ColorPlus® Technology finishes, multiple
coats of color are baked onto the boards for a stronger bond that resists chipping, peeling, cracking, and fading.
Return on Investment
Re-siding your home with fiber cement siding provides the #1 return on investment of any major exterior remodeling project.*